What's New with My Site?
Please sign my guest book, and feel free to read any already signed messages. Let us know what you think about our site and tell me your thoughts on how we can change it and make it more interesting to our visiters.
A guestbook allows all visitors to our site to leave their comments and other information, which can then be viewed and added to by other visitors. So thanks for droppin in and letting us know what you think about us, please contact me anytime about anything.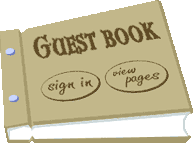 What's New With My Travels?

I update my site every few months, my site will change some; please check back frequently!
**Update**
I have changed and updated many pages on my site, so if you think you have seen that page before check again to be sure.

***What's New***

http://journals.aol.com/hevnswtangel/AngelsJournal


If you have any questions about anything please feel free to write me an email through the Questions link on the hompage. Thanks!!